March 14, 2018 - An article on primacy of awareness published in Routledge´s "Personal Sustainability"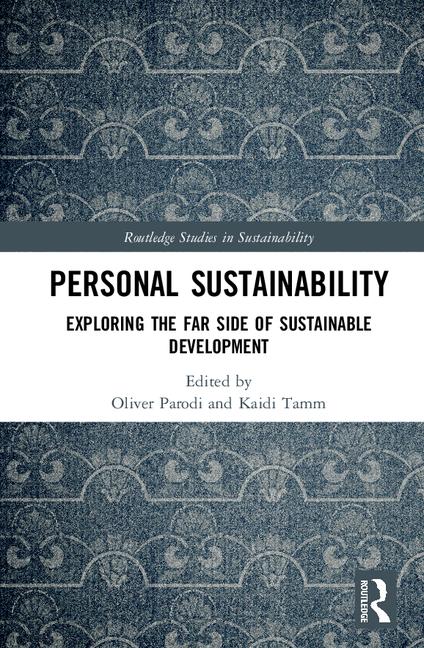 In March Ingvar Villidos' article "Awareness as the New Paradigm for Personal Sustainability: A Practitioner's Perspective on the Sustainability Transition" was published in a trailblazing book "Personal Sustainability. Exploring the Far Side of Sustainable Development" by Routledge, the largest global academic publisher within the humanities and social sciences.
Sustainable development has become one of the most pressing issues of our times. Sustainability problems will not be solved through simplistic, superficial tactics nor do they fall into some isolated categories. Currently, the mainstream approach to sustainability focuses on the external, collective and global processes, leaving the intra- and inter-personal aspects of humans unaddressed.
"Personal Sustainability" seeks to address this gap in research and provide a starting point for further research and discussion. Edited by Oliver Parodi and Kaidi Tamm, this trans-disciplinary research monograph includes 12 articles from international researchers and practitioners providing original insights and analysis of novel ways to address sustainability issues.
Ingvar Villidos' article "Awareness as the New Paradigm for Personal Sustainability: A Practitioner's Perspective on the Sustainability Transition" makes up the 9th chapter of the book. In his article Villido argues that in order to make sense of the current sustainability crisis, it is necessary to take a deeper look at the processes taking place on the individual level, especially the driving force behind an individual's choices, actions and values. He discusses two fundamentally different behavioral and perceptual strategies: the currently dominant mental-emotional paradigm, and awareness as the new paradigm.
Villido argues that the dominant understanding of human nature, role and abilities from the perspective of current mental-emotional paradigm is very limiting. Drawing from his experiences in inner research, he argues the automatic character of human actions and ignorance of the inner dimensions count among the main sources of problems and conflicts. Instead of trying to "fix" the old paradigm, Villido suggests shifting to a new paradigm based on the use of awareness as the primary force.
For shifting to the new paradigm, it is relevant to stop blindly following the socially learned values, norms and habits. Villido argues that creative, insightful and healthy individuals can function sustainably in the long run only when the automatic emotional and mental complexes are reduced and substituted by increased use of awareness. Active use of awareness enables a person to change one's life independently and ultimately transform from being a socio-culturally shaped reflex-driven unit into a smart, independent and self-learning realist – a real homo sapiens sapiens. The personal transformation will subsequently support the necessary transitions in the outer world.